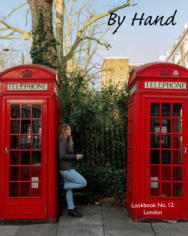 By Hand No. 12, London
By Hand is a community-centered publication for knitters and makers, published three times annually.
Issue #12 of By Hand Serial takes you on a hands-on, experiential trip to London. Lookbook #12 is full of shops to visit, workshops and classes to take, and outings and day trips to experience. Take a baking class at Bread Ahead, indulge all of your fabric fantasies and learn how to sew with the experts at Merchant and Mills, and observe the fundamentals of natural dying in the working studio of Botanical Inks. Peek into the fabric store houses of Liberty London and Cloth House. Stretch your legs and savor the sights and scents in London's Kew Gardens, then hop a train and take a day trip to Brighton Beach or the medieval village of Rye. Lookbook #12 is a maker's travelogue - use it to craft your own fiber and fabric trip of a lifetime!